See on Scoop.it – Data Nerd's Corner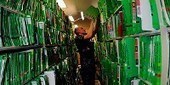 Despite increasing use of electronic medical records, much patient data remains in text form, requiring text-mining techniques to make full use of patient information.
Carla Gentry CSPO's insight:
Text and data mining have much in common; underlying each is the assumption that knowledge lies buried in a scattered mass of information. But whereas data mining predominately relies on statistical methods to uncover trends in structured data, text-mining techniques seek to make sense of information that is unstructured, such as a doctor's scribbles on a patient's chart. For example, much of the available clinical data are in narrative form as a result of transcription of dictations, direct entry by providers, or use of speech-recognition applications. This "free-text" form is convenient to express concepts and events, but is difficult to search, summarize, and analyze. Fortunately, text-mining techniques can help code these data for analysis.
See on www.the-scientist.com