See on Scoop.it – Data Nerd's Corner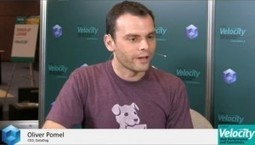 Carla Gentry CSPO's insight:
Metrics, Analytics, and Big Data are the hottest things in Furrier's view, but Velocity is not an event focused on Big Data, but rather a place where Web and Dev Ops and UI professionals meet. There's a lot of software development challenges around
DevOps with design. As other CUBE guests have said, not only we have to monitor the web, but the mobile apps as well. So monitoring is one of the hot trends here, and it's not just monitoring the lifecycle of coding, but monitoring the system performance as well. That system is now integrated, you have DevOps with Design.
See on devopsangle.com